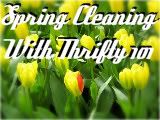 The weather was nice for a few days, so I headed out to the garage to do a little de-cluttering. The garage is where most of our donations end up. The donation pile of outgrown clothing, toys and books clutters our house, so I put them in boxes and put them in the garage....making my garage cluttered.
The donations were only part of the problem. The other problem is all the great deals I got on Amazon over Christmas. I kept all the boxes and reused most of them for wrapping Christmas presents. The ones I didn't use stayed in the garage.
Here are the before photos:
Mostly empty boxes and a few Christmas boxes that go in the rafters.
Donations and empty boxes.
More crap. :)
Here's the pile of recycle stuff, mostly those empty boxes.
Donation pile. After this pic I loaded it all in the car and took it down to Good Will.
After Pics:
Wow, there were bikes under there? The brown box on the left is a Mother's day gift for my mom, so come May it will be gone too. :) And the white thing next to it are plastic fence slats we will put in this Spring.
*And yes, that is carpet in our garage. My dad flips houses and had some spare pieces from a house he just put new carpet in. They soak up melted snow from the car and make the ground warm so we can go out to the freezer with bare feet.
It still LOOKS cluttered from this angle, but it's not. :)
The green box on the right is a patio awning that will go up in the back yard this summer, so it won't be taking up space for much longer. (It weighs about 50lb or I would have moved it for the picture.)
For this weeks challenge, I'm going to attack my CLOSET.
Feel free to join in the Spring Cleaning frenzy! Grab a button (under the new Button tab at the top) and get going! I'll post any before/after pics you want me to feature. (yes, it's embarrassing, but it's also very motivating and VERY rewarding!)