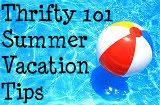 I am suppose to be at Yellowstone National Park this weekend. We checked the weather before we left and the high was suppose to be 52 with thunderstorms/snow all weekend. Here's the forecast for this weekend at Yellowstone:
BRRRR!!!! And not so much fun to hike in. :(
Since most of what we would be doing at Yellowstone was going to be outdoors, we decided to postpone our trip. I'm really bummed about it. I've never been to Yellowstone and was looking forward to it. I'll get there someday....
This experience made me think of a Summer Vacation Tip that I could share with everyone.
When planning a vacation that is dependent on the weather AND you can easily cancel the trip....be sure to check the hotels cancellation policy prior to booking the room. We were driving to Yellowstone so it was easy to cancel our trip because there was no airfare involved. The hotels I booked (Best Western and Motel 6) had cancellation policy's of 4:00 pm the day prior to arrival. I booked these hotels because of the price and the cancellation policy.
Be aware that "Web Only Pricing" rates are NOT refundable or changeable. I learned this the hard way when I tried to cancel a room over Spring Break. Again the weather called for snow and we were suppose to be hiking Bryce Canyon in Utah. (oh the joys of living in Utah...stupid snow!) ;)
If you do need to change a non-refundable rate, ask to speak to the hotel manager. I did this for our reservation and he said although he could not refund me the money, he could change the date to any other day before the end of the year. So we booked the same hotel at the same rate for October. It never hurts to ask. And snow or no snow we will be there in October!
Be sure to check Trip Adviser to find ratings on hotels where you are going. I always check Trip Adviser before booking any hotels. Often you will find hotels with much better ratings for the same price. They also tell you about things like what the free breakfast includes, how quite the rooms are and if the hotel charges for parking. The reviews are done by travelers, not by anyone paid to review the hotel. I've left a few reviews myself. :)
If you use a travel deal site to search for a hotel, be sure to check the hotels direct site for rates. Sometimes the deal sites will charge you a fee for helping you find your hotel. The direct website for the hotel will not charge you any fees to find available rooms.