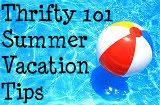 I have found some really fun summer boredom buster ideas online and through my work with after school programs for the city recreation department. My goal this summer is to be creative and do some new THRIFTY things with my boys.
I've decided to host a "Summer Boredom Buster" link party. This will be a place we can all log our creative kids activities, crafts, games, ideas and a place where we can get new inspiration.
The party will be an ongoing party so check back often for new ideas and to link up anything you have tried.
You can find the party in the tabs above this post. On the far right you will see a new "
Summer Boredom Buster Link Party
" tab.
We had to cancel our Yellowstone vacation this weekend :(, so my "
Summer Boredom Buster
" ideas might start this weekend!