My Grandma made me this when I first got married. He's my favorite Christmas decoration. My kids know they go no where near my soldier. ;) I thought I'd show you a few photos so you can see how thrifty this little Terracotta Soldier is.
He is made of 5 Terracotta pots. The orange kind you can find at any store during the summer. You can use any size. Mine has big pots so he stands about 2 feet tall.
2 are black,
one is blue,
one is red
one is peach on the front and black on the back (where his hair is)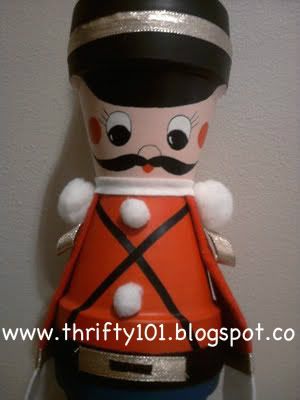 She painted every pot and let it dry. She used Quarters to trace the size of his cheeks. His eyes are half a quarter for the black and half a quarter plus a little for the whites. His nose is 1/2 a nickel. She had a pattern for his face, but that was 14 years ago so who knows where it is now. (truth be told she could probably tell me right where it is at her house if I asked.) ;)
She attached the pots open ends together with a TON of hot glue. He hasn't fallen apart yet! :) Then she added ribbon, felt arms, and a few little accents.
I've made a few of these with the little pots and they turned out so cute!