Happy Thursday Everyone!
We had some "Technical Difficulties" last week .....so to make up for it this week, everyone that links up with DIY Thrifty Thursday will be entered into a drawing for a "Pamper Kit"!
This kit includes
Gel Eye Mask
Room Diffuser kit
Hand Lotion
Beaded Bracelet
1 entry per link up. So if you link up 2 projects, you get 2 entries.
Winner will be contacted via email
so if you want to be included in the giveaway be sure to enter your email in the space provided when you link up your project.
Link back to Thrifty 101 somewhere on your blog and

help promote DIY Thrifty Thursdays

, the bigger the party, the better! THANKS! Buttons are found HERE or you can just add a little link this: Thrifty101. I don't require it on your post because I know how annoying that can get. Mention it or post the button anywhere on your blog, FB page, Twitter is great. Thanks! :)
Link up any projects you have

done yourself.

Even if you didn't "create" the idea or invent the recipe, you still made it yourself.
Share the Love! Visit other bloggers and leave a comment or two. ☺
And don't forget our
Summer Boredom Buster Link party
every Friday.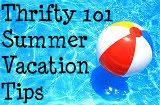 *